~Q & A with Linda Hugo, Founder and Managing Director of Beyond Curated
Throughout lockdown Linda has been invited to contribute to several discussions and interviews, sharing her inspiration and motivation for creating Beyond Curated and how she has adapted and pivoted the brand during these challenging times. 
We're delighted to share some of these positive insights to gain an understanding of how resilience and a sense of purpose can be powerful forces during these times.
Q: As a small business in the travel industry, how have you stayed positive and kept your business going during this year of unprecedented challenges?
A:  From the very start of lock-down I was inspired by the motivational webinars which I attended. In the face of lockdown and the shock of what was unfolding people responded almost immediately with messages of unity and support. Through the medium of webinars (remember when we all wondered "what IS Zoom?") there was a growing sense of connectedness and I recognised the opportunity to reach others through sharing skills, knowledge and positive energy.
And so, the Beyond Curated series of complimentary webinars was born. Having built up a great portfolio of insider contacts and business partners, I began crafting the sessions to feature various speakers including gatekeepers, experts and performers, in the hope that audiences would take a pause in their day to tune in, have a little fun, learn something and hopefully be inspired. These amazing 'stars' of our webinars all gave their time and effort for free – my eternal thanks and appreciation to them!
Some of the subjects explored were rare diamonds, James Bond, the Tower of London, historic jewels, cocktails at Highclere Castle and more. We also encouraged donations to support our friends at Historic Royal Palaces and promoted many of our partners, including Pol Roger champagne and historians Alison Weir and Siobhan Clarke.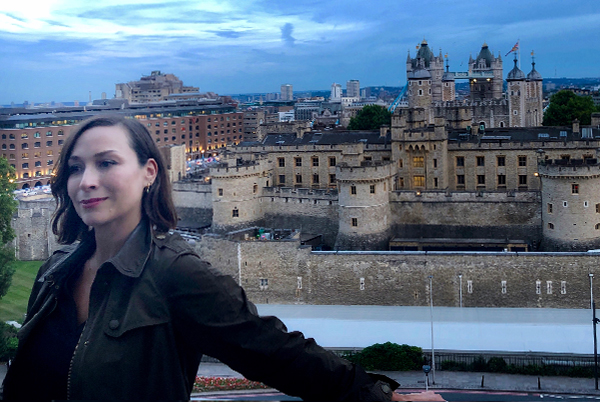 Q: How have the webinars been received and what effect has this had on the business?
A: The sessions were a fantastic success, offering participants a channel through which they could discover something new and simultaneously growing our audience significantly.
All the sessions were complimentary and curated with heartfelt passion. They enabled us to express our creativity and utilise this new platform to reach global audiences. So in giving, we started receiving. New contacts, new ideas, new partnerships and most importantly of all increased positivity for ourselves and for all these we were reaching.
We planted the seeds of new relationships and let the world know that our small business is all about creativity, creating heirloom memories and sincerely improving the lives of everyone we reach. Creating these online events has helped me develop a new skill so that we can now offer virtual experiences as part of our curated product offering, the demand for which is on the increase.
Of course it has been tough, with cancelled orders, zero incoming travel and all that comes with that, but I have learnt, and I know I'm not alone in this, that creativity, integrity, passion, resilience and a genuine desire to spread goodwill are some of the most effective ways to tackle adversity.
Think about where your skills lie, share what you have to offer and how you can make someone else's life that little bit happier or more meaningful.
It's a one day at a time game right now and waking up each day to take action with gratitude and positivity, will pave the way to success as we work together to build a great future for all.
Q: What inspired you to create Beyond Curated?
A: It was an epiphany! One of those sudden, once in a lifetime moments of clarity when life shows you that there's a better path to take. A new path that would lead me to create a business which is truly an extension of myself. Whilst Beyond Curated's mission is to serve and delight our clients, it also allows me to express my creativity and passion for heritage and culture.
As is often the case, a number of circumstances converged to cause my epiphany.  I was grieving the loss of my beloved parents who had inspired a love of beauty and culture in me from an early age. I also stood at a career crossroads. The path to advancing my career in conventional employment was unclear and, frankly, unappealing.
Arriving at the concept for Beyond Curated was an incredibly liberating moment. For the first time in a long while, I felt a sense of purpose and could clearly see the path that I needed to take.
The foundation of Beyond Curated can be traced back through my almost three decades of working in the world of retail luxury on London's Bond Street, and before that to growing up on the slopes of Table Mountain, immersed in the incomparable natural beauty and cultural diversity of Cape Town.
Creativity has always been a big part of my life and I spent several years working as a decorative artist supplying galleries with painted objects. At the start of my career, I immersed myself in history, in particular Medieval culture, Pre-Raphaelite art, Victorian jewellery, historic buildings and period interior design.
Q: How did your career evolve when you moved to London?
After moving to London in 1994, I worked for leading luxury houses, including Louis Vuitton and Baccarat. I spent time in Paris and further developed my keen respect for heritage and craftsmanship. A fine jewellery course at the GIA (Gemological Institute of America) and a role within Tiffany and Co's flagship showroom re-ignited my passion for fine jewels and I went on to work with extraordinary rare diamonds, creating strategies for business growth and enjoying every moment of the journey.
I brought my passion, energy and entrepreneurial skills to each role, and developed a sincere commitment to offering clients the highest quality of authentic service excellence.
I took pride in transforming businesses by emphasising heartfelt client service and unique brand characteristics, whilst achieving significant financial growth.
Eventually I reached the stage where, for me, a conventional career had lost its lustre. I asked myself, what do you really enjoy doing, what are you good at, what have you learnt, and how do you want to apply your expertise?
The answers led me to establish Beyond Curated.
Q:
 

How does Beyond Created align with how you see your life

'

s purpose?

The company is as close to a true reflection of myself as I can make it. I approach every day with a sincere commitment to offer my clients access to the very best, by providing luxurious cultural and heritage experiences that will leave them with heirloom memories, which will enrich lives for generations to come.

It's thrilling to bring an idea to life, nurture it and see it flourish. Building a business from scratch takes time, effort, patience, and belief in yourself. If you start with a foundation of integrity, passion and a genuine desire to serve, then you are much more likely to succeed.

I hope my story will inspire other entrepreneurs to take the plunge and follow their passions. 

Creating your own business is a life enriching journey. Of course it involves living with a great deal of uncertainty, and there are moments of blind terror but all the lessons you learn will accelerate your personal growth and lead you to great insights into your life's purpose and what is important to you. If I had to distil my own life's purpose into two words they would be create and inspire! I'm very grateful that Beyond Curated provides me with the opportunity to do both every day.
---