We pride ourselves in creating dynamic partnerships and collaborations with industry specialist who share our ethos for delivering the very best services to our valued guests,
and do so with passion and unwavering dedication.
---
Beyond Curated X Fly Elite Jets
Beyond Curated is delighted to partner with the Fly Elite Jets, the Elite in private aviation.
Founder and CEO Christopher Williams-Martin has built FlyEliteJets' enviable reputation on the foundations of delivering the highest standards of service in the industry. He has a lifelong passion for aviation, with time spent on the R44, Hughes 500, Bell 206, and Agusta 109.
FlyEliteJets is the result of Christopher's drive for success in creating a globally recognised brand that counts Royalty, FTSE 500 CEOs, UHNW families, and well-known personalities from fashion, film and music among its clients.
It is our pleasure to offer Beyond Curated guests access to their exemplary services and to incorporate their luxurious flights as elements within our bespoke experiences.
Please contact Linda Hugo at Beyond Curated or Christopher Williams-Martin at Fly Elite Jets for further information.
linda.hugo@beyondcurated
ceo@flyelitejets.com
---
Club Porteno Provoqa
Beyond Curated are delighted to partner with the exciting and unique Club Porteno Provoqa – to offer our guests access to their Club with preferential rates and services. Perfect!
CPP are an international private club based in Argentina, the only "Pro-Mad" Club that rotates around the world with a distinguished guest list of members who enjoy a diversity of benefits and experiences, from access to private Islands, to a Palace in the middle of the Argentine Pampas, crossing the Andes on a horse, original and fun wine & whiskey tastings, arts, Pop Ups at International Private Members clubs, the best bars and restaurants offerings and most importantly, a club that unites the world, supports local experiences, local community, sustainability, values relationships and of course, the very personal touch.
We offer Beyond Curated guests:
• International membership with 50% discount.
• Invitations to special national and international events with member rates.
• Discounts with partner hotels in Latin America and Europe.
• Access to reciprocal international members clubs.
• Latest news from the hospitality & travel world from the well-renowned and CPP Founder Massimo Ianni.
Club Porteno Provoqa – Founded by:
Massimo Ianni, a key opinion leader and influential curator within the hospitality industry over the past 35 years.
Liana Neal, 15 years uniting International individuals from all over the world with her creativity, energy & unique experiences.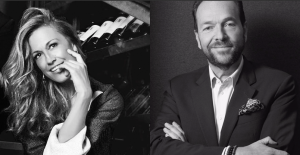 ---